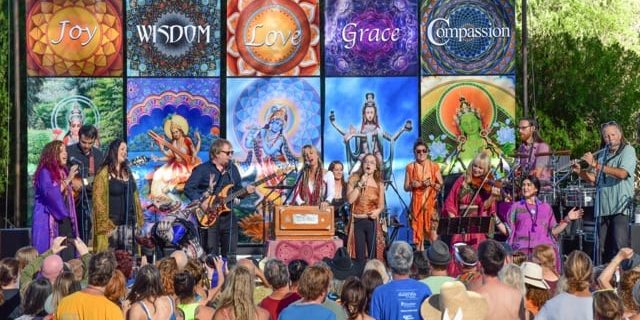 Larisa Stow & Shakti Tribe are here to wake, shake and create a vibration-raising revolution with their edgy blend of mantra-infused rock. Fronted by force of nature Larisa Stow, their music is an East-meets-West fusion of English and Sanskrit. Larisa's captivating style & stellar vocals combined with her band's impeccable musicianship earned them awards and have garnered main stage slots at numerous festivals in the US and abroad including Lightning in a Bottle, Bhaktifest & Bali Spirit Festival, and opening act spots for well known artists and spiritual leaders including Deepak Chopra.
Brenda Patoine of Bhakti Beat call Shakti Tribe "a seamless fusion of edgy, urban rock and sacred mantra-with-a-message (that) will very likely have you dancing like a wild man and contemplating the nature of your true existence."  Taking to heart Gandhi's philosophy "Be the Change You Wish to See in the World," Larisa Stow & Shakti Tribe also give special concerts in prisons, jails, juvenile detention facilities and recovery centers where they share tools of transformation including yoga, mantra, and meditation to affect positive change, inspire personal responsibility and create Peace.
Personal Larisa bio ... ???