A biography of Larisa Stow & Shakti Tribe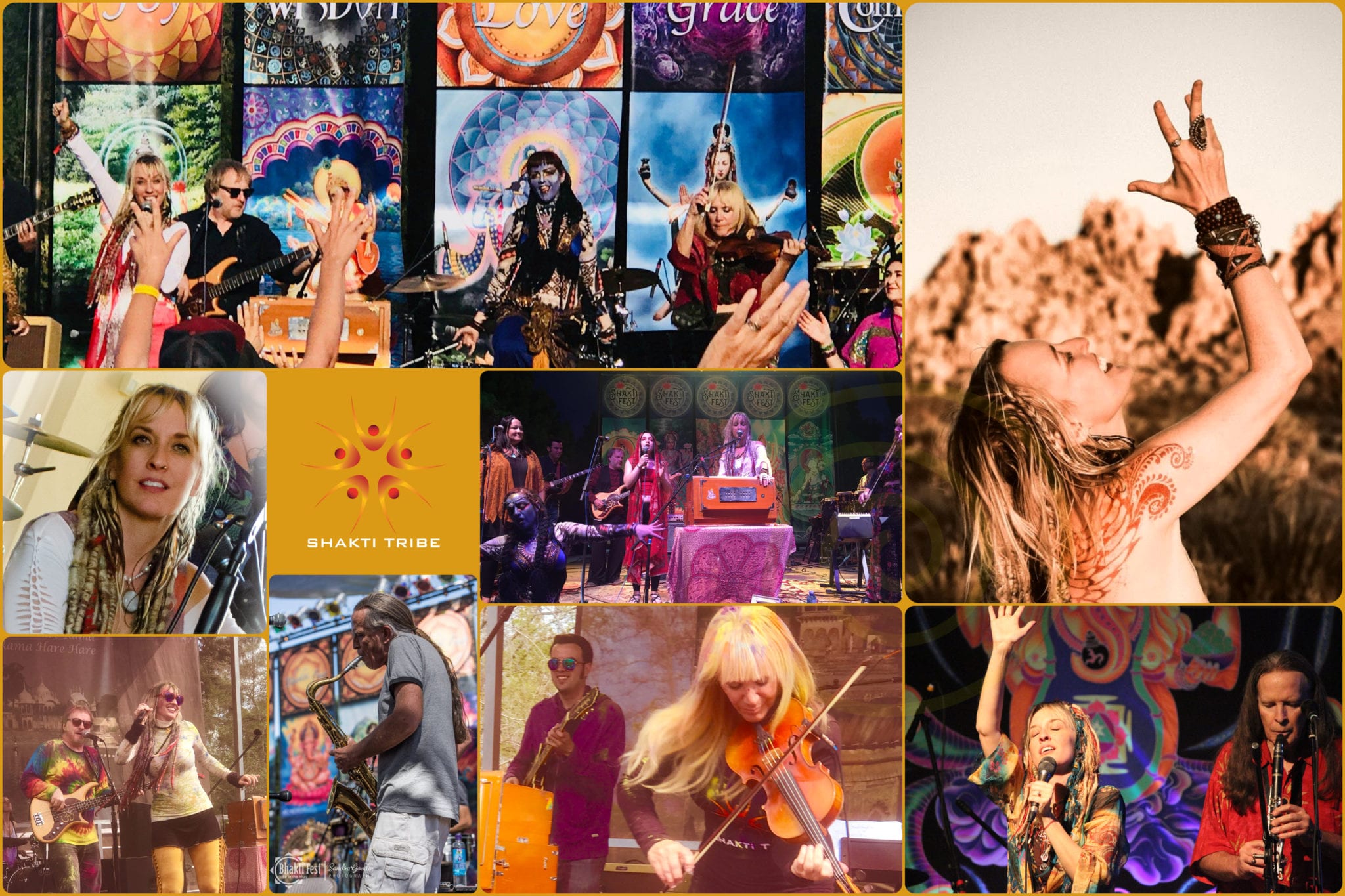 The 2019 release of There Is A Light That Will Remain marks the seventeenth year of traveling, performing and recording for Long Beach, California-based Larisa Stow & Shakti Tribe. The group has been transforming audiences with their decidedly edgy brand of "sacred world mantra rock" at yoga studios, churches, festivals in the U.S. and internationally such as Bhakti Fest in Joshua Tree, CA (eleven years running), Lightning In A Bottle, the Bali Spirit Festival, and the odd bar gig. The band won the award for World Music at the 2012 Malibu Music Awards.
The story of Larisa and the Tribe weaves a labyrinthine trajectory through the years, sharing joys and facing challenges. The longevity of the group stands as a testament to their dedication to the vision, the mission and the message of Shakti Tribe: the deepening of compassion, connection, community and self-expression for our communities and the world.
Blessed with a voice like a force of nature and an intuitive gift for songwriting, Larisa Stow was the archetypal up-and-coming pop/rock singer in late 1990s. Performing in the hottest Los Angeles clubs (The Roxy, Key Club, et al.), she was courted and groomed for pop music success. Her album Moment By Moment, produced for DTS Records by David Tickle (Sting, U2, Sheryl Crow, Prince) received accolades and won her the 1999 Los Angeles Music Awards Singer/Songwriter of the Year award. Labels were lining up and publishing deals were in the works. But Larisa struggled to reconcile the imminent, often shady demands of stardom with her own ideals and beliefs. Then, the national tragedy of 9/11 happened — and a major shift for Larisa. She walked away from the music business (she was also pregnant with her first daughter at the time). Her interest in "success" evaporated, replaced by a desire to cultivate more spirituality in her life. "My heart was breaking for the world and its people. I couldn't sing my own songs anymore — I could only sing prayers for peace." This led her to explore the science and practice of mantra under her mentor Thomas Ashley-Farrand, who subsequently introduced her to kirtan chanting (the call and response practice of singing mantra). She was immediately drawn to kirtan as a form of prayer and meditation, deepening her connection to the spiritual world, while gracefully circling her back to her first love — music.
Serendipity turned a neighbor into a good friend: Long Beach resident Rick Hahn was already a Grammy-award- winning producer (Celine Dion's Falling Into You) when he and Larisa teamed up to write and produce 2002's Reaching In, Larisa's first album of mantra music and peace prayers. (The album would be re-released in 2006 on the well-known new age label Oreade Music, and reach #6 on the New Age charts — the very first mantra album to crack those charts.) Reaching In was not a "full band" recording but it did include contributions from future Shakti Tribe band members. Soon, Larisa was gathering musicians she knew and began sharing these sacred chants at spiritual events all over California. Bandmates coalesced, and the first incarnation was born: Larisa Stow & Gathering Guru.
This began a period where members came and sometimes went, to be replaced by others, and some also would return. Kimo Estores, a former shred-metal guitarist who  became disillusioned with the music business and had quit playing, joined Larisa's band "on a temporary basis" and stayed for ten years, leaving in 2013. Benj Clarke joined the band in 2006, replacing ailing bassist David del Grosso, playing his first Tribe gig for Earth Day on the Santa Monica Promenade. Benj remains a driving-force creative partner with Larisa to this day. An important stylistic shift occurred when guitarists Kimo and Benj began provoking each other's rock influences, which organically seeped into the band's arrangements, and Larisa in all her intensity was primed to rock out, too! At the time, kirtan music was regarded by its devotees as very much a purist music form, to be played in a seated position, solely on acoustic (often Indian) instruments. Despite the prevailing mores of the purists, the band began to take more chances in their presentation, bringing in a full drum set, keyboard loops for the rhythm section, and even some electric guitar, earning them a reputation as the "black sheep" of the mantra music scene ("We raised some eyebrows" says Benj). In this same period (late 2007), the band changed their name: Larisa Stow & Shakti Tribe were christened, and the album The Shakti Sessions (produced in part by Matt Malley of Counting Crows) was released. 
Serendipity struck again when "wizard of woodwinds" and master astrologer Richard Hardy (a veteran L.A. musician who played in Carole King's band for fourteen years, as well as Dave Matthews, Lyle Lovett and Stevie Ray Vaughan, and numerous film soundtracks) joined his considerable talents to the group in 2007. Ace violinist Bethany Grace (Yanni, L.A. Philharmonic, Yes, The Three Tenors, Moody Blues) has graced the band with her exquisite aesthetic contributions since she charmed her way into the band in 2012. Today, Richard and Bethany are the "symphonic" section of the band, creating the lush and vibrant textures that are a hallmark of the Shakti Tribe sound.
The band continued to refine their unique brand of chant, introducing rap lyrics, guitar power chords, heavier beats, and other such radical (for the genre) elements. While they were taking their lumps from some of the kirtan community, they were also pioneering the concept of chant-fusion which exists presently. It wasn't their intent to blaze the trail, merely to be who they are — but there's no denying that Shakti Tribe has played a significant part in the evolution of the chant genre to where it is today.
The first example of the new sound is the fan-favorite title track to the 2012 album Rock On Sat Nam. This hybrid "mantra-rock" anthem was created to build rapport with a very special audience: the inmates of the many city, state and federal prisons of California where the band would regularly offer their musical "transformances" for the incarcerated populations through their Shakti Tribe Peace Outreach Program (501c3), bringing love and positive messages to these men and women, who would soak it all up like water in the desert, their resistance and defensiveness melted away by Larisa and the band's transmission of love — where, by the end of the concert, the seemingly hardened men and women are singing along and enthusiastic, having their hearts cracked open, many openly weeping and having transformational emotional healings. Said a guard at Terminal Island Federal Penitentiary, "every time you guys play here, there's no trouble at all for the next couple of weeks."
Now, in 2019, Larisa Stow & Shakti Tribe have released their most ambitious and accomplished recording, There Is A Light That Will Remain, which reached #8 in May on the New Age chart - not bad for a rock album!  Larisa and long-time co-writer/co-producer/bassist/guitarist Benj Clarke call it their best work to date, Larisa stating "we believe that this music carries the message, the power and the emotional alchemy to bring great healing to the planet." In addition to her successful life-coaching business and spending time with her family, on the horizon for Larisa is an upcoming book, and a musical theater presentation chronicling the inner hero's journey of spiritual redemption.
Taking to heart Gandhi's philosophy "Be the Change You Wish to See in the World," Larisa Stow & Shakti Tribe give special concerts in prisons, jails, juvenile detention facilities and recovery centers, sharing tools of transformation that include yoga, mantra, and meditation to affect positive change, inspire personal responsibility and create Peace in the world.